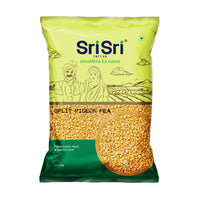 Toor Dal - Split Pigeon Pea, 1kg
*Inclusive of all taxes
Check Shipping & delivery
Sri Sri Tattva is committed to bring you the quality of food that you desrve. Our products are sourced from certified organic farms. They are cleaned and packed in the most hygenic conditions in food grade packaging. Bring home Sri Sri Tattva for a healthy life.
Key Benefits
Keeps the soil fertile for multiple harvests.
Prevents water contamination, as there are no residual chemical pollutants in the earth.
Gives wholesome natural taste in all the

produce grown.
How to Use
Read the label carefully before use.
Net Weight : 1 Kg
Best products
My food for life .. sri sri tatva has the best range of products. Go for it
Toor Dal - Split Pigeon Pea, 1kg