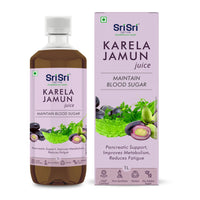 Karela Jamun Juice - Maintain Blood Sugar | Pancreatic Support, Improves Metabolism, Reduces Fatigue | 1 L
*Inclusive of all taxes
Check Shipping & delivery
Introducing Sri Sri Tattva Karela Jamun Juice, a unique and nutritious blend of two exceptional fruits, karela (bitter gourd) and jamun (Java Plum). This juice combines the health benefits of these two super fruits, offering a refreshing and wholesome way to support your well-being.
Health Benefits
Stimulates the pancreas, liver and digestive system.

Can be used to treat diabetes.

Helps in glucose metabolism.

Helps in digestion.
How to Use
Mixed 30 ml of juice with 100 ml of water or fruit juice, or consume it plain.

Consume it twice a day half  an hour before food or as directed by Physician.
Key Ingredients 
Water

Karela (Bitter Gourd)

Jamun

Amla

Harda

Baheda

Neem

Bael

Giloy

Methi (Fenugreek)

Ambehaldi

Dry Ginger

Shatavari

Ashwagandha

Citric Acid (INS 33)
Ingredients are non synthetic, therefore, slight variation in colour, taste, viscosity and some sediments are natural.
Net Volume:  1L
Karela Jamun Juice
I was skeptical about trying Karela Jamun Juice, but this product exceeded my expectations. It has helped me maintain my weight and support my immune system.
Karela Jamun Juices
I've tried several Karela Jamun Juices in the past, but Sri Sri Tattva's product stands out. It's 100% natural, and I can feel the difference it makes in my energy levels. Plus, the packaging is convenient, and the taste is surprisingly good. Definitely a must-try for those who want to improve their overall well-being
Karela Jamun Juice - Maintain Blood Sugar | Pancreatic Support, Improves Metabolism, Reduces Fatigue | 1L
Karela Jamun Juice - Maintain Blood Sugar | Pancreatic Support, Improves Metabolism, Reduces Fatigue | 1L