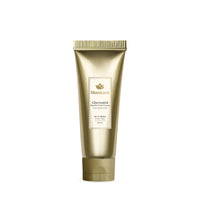 Gheesutra Hand and Foot Cream - 60 ml by Shankara
*Inclusive of all taxes
Check Shipping & delivery
Our Gheesutra Hand & Foot Cream's exquisite blend brings centuries of beauty wisdom to your skincare ritual. Enriched with the goodness of Washed ghee and Moringa, this light cream imparts satin softness to hands and feet while providing deep nourishment. It also improves the skin barrier to ensure moisture retention even after constant washing.
Benefits-
Provides intense hydration and moisturizing.

Improves the skin barrier and promotes healthier skin.

Applying this cream can be a calming and relaxing ritual.
How to use-
Step 01: Wash and Clean your hands and feet with water.
Step 02: Take adequate cream and apply gently on hands and feet for optimum result.
Ayurvedic Benefits for your Skin type-

Washed ghee is a traditional Ayurvedic ingredient that has been used in beauty concoctions for centuries. Our Gheesutra Hand & Foot Cream promotes the revitalizing properties of Washed ghee to give satin soft hands and feet to all skin types and doshas.
Ingredients-

Washed ghee helps in reducing and preventing damage from oxidative stress.

Moringa is helpful in preventing acne breakouts on your skin.

Bamboo extracts visibly reduce the signs of fatigue and leave the skin feeling hydrated and balanced.
 Net Weight -  60ml