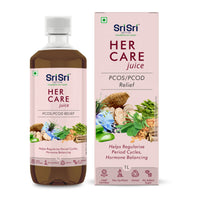 Her Care Juice - PCOS / PCOD Relief | Helps Regularise Period Cycles, Hormone Balancing | 1 L
*Inclusive of all taxes
Check Shipping & delivery
Many women experience pain and extreme discomfort that can occur days before the onset of the monthly period. Find relief from symptoms related to PCOS & PCOD, period pains, cramps and uneasiness with this powerful blend of 7 Herbs like Shatavari, Kali Musali and Methi. Shatavari has been Ayurveda's elixir for Women's health through the ages. It can be extremely beneficial for women's reproductive health throughout various stages of their life.

Health Benefits
Period Pain Reliever, Relieves pain during, before and after Menstruation.

Healthy Menstrual Flow, Regulates the flow of Menstruation.

Hormone Balancing, Helps address conditions related to hormone imbalance such as PCOS and infertility.

Blood Purifier, Highly effective in eliminating pimples, acne blisters and various

other skin issues related to hormonal imbalances.

Reproductive Health: Supports female Reproductive & Bone health.
Ingredients
Shatavari

Vidarikanda

Ashwagandha

Aloe Vera

Methi

Black Cumin

Kalil Musali

Citric Acid

Potassium Sorbate

Sodium Benzoate
Directions for Use

Add 30ml of Her Care Juice to 100ml of water and mix well.

Drink twice a day, preferably on empty stomach or as advised by your Vaidya/ Nutritionist.
Net Weight: 1L

Sri Sri tatva
It was good and valuable for money
Awesome product
I have been using her care juice for last two weeks. Few thing I noticed so far are visible reduction on body acne, my body feels light ,mood swings and stress level were less. I suggest every woman to include this product in their daily routine.
Good product
Now using when result come i message and all ayurvedic result will come minimum after 2 months so i using regularly thank u
Her Care Juice - PCOS / PCOD Relief | Helps Regularise Period Cycles, Hormone Balancing | 1L