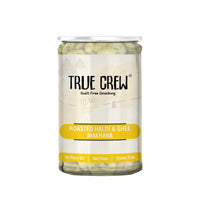 TRUE CREW Roasted Haldi and Ghee Makhana Jar 70 g
*Inclusive of all taxes
Check Shipping & delivery
True Crew Roasted Haldi and Ghee Makhana - a wholesome indulgence
Elevate your snacking journey with the True Crew Roasted Haldi and Ghee Makhana, a nutritious and flavorful combination of fox nuts (makhana) seasoned with turmeric (haldi) and ghee, all conveniently packed in a 70 g jar.
Nutritional Benefits
Low in calories and high in protein.
Anti-inflammatory properties.
Healthy fats.
High in iron, calcium, & magnesium.
Key Ingredients
Makhana (Fox Nuts)
Rock Salt
Turmeric (Haldi)
Pure Desi Ghee
Net Weight:
70 g