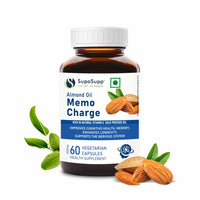 SupaSupp Almond Oil Memo Charge | Improves Memory, Enhances Longevity, Supports Nervous System | Vitamin E | Health Supplement | 60 Veg Cap, 500mg
*Inclusive of all taxes
Check Shipping & delivery
Almonds contain healthy fats, fibre, protein, magnesium and vitamin E. The oil is rich in monounsaturated and polyunsaturated fats which predominantly help improve memory, cognitive functions and overall brain health. Omega-3 fatty acids in the oil, act as therapeutic agents as well and play a significant role against inflammatory diseases, such as cardiovascular and neurodegenerative diseases.
Key Benefits
Supports cognitive health

Helps to improve memory

Enhances longevity

Supports the nervous system

 How to Use?
2 capsules after food once a day or as directed by a physician.
Key Ingredients:
Almond Oil 500mg
HPMC Vegetarian Capsules
Caution
Not to exceed the recommended daily dosage. Pregnant or nursing mothers, children below 18 years of age and individuals with known medical conditions should consult their healthcare professionals before using this product.
Keep out of reach of children.
Natural product color may vary.
GREAT NUTRITIOUS PRODUCT
Superb product .
Delivers what is promised !