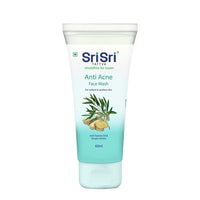 Anti Acne Face Wash - For Radiant & Spotless Skin, 60 ml
*Inclusive of all taxes
Check Shipping & delivery
Sri Sri Tattva Anti Acne Face Wash is a herbal formulation that helps fight acne. The specially formulated composition with a precious blend of Teatree Oil, Ginger and Grape seed extract removes dirt and excess oil and unclogs pores, letting your skin breathe freely. Tea tree oil has a very effective anti-microbial action which fights skin infection, Ginger and Grape seed remove dirt and grime. Use Sri Sri Tattva Anti Acne Face Wash for an acne free, healthy skin!
Key Benefits
Helps in preventing pimple & acne through triple action.
Fights bacteria: Washes away troublesome bacteria to help prevent pimples & infection.
Cleansing: Provides deep pore cleansing & removes oil which is the main cause to attract dirt, germ & bacteria.
Exfoliate: Removes dead skin faster so helps in rejuvenating & complexion improvement.
 How to Use
Take sufficient quantity and massage gently on wet face, rinse thoroughly. Avoid contact with eyes.
Key Ingredients
Precious tea tree oil
Ginger
Grape seed extract
Net Weight: 60 ml 
Anti acne face wash
This facewash I have been using since 3 yrs and has significantly removed my acne , and it avoids more severe breakouts too , and heals the pimples ,or acne in a month period ,definitely recommend
Sri Sri Face wash
Your face wash products are really awesome. I knew them when I visted the ashram in 2017 and afterwards I have been using them regularly. I had rosacea and your products have helped me a lot with such a refractory skin illness.
I would like to buy more, but I live in Colombia, South America, and do not know how to get them (they are not available in Amazon anymore).
I would appreciate your help.
Anti Acne Facewash - For Radiant & Spotless Skin, 60ml
My pimples are getting reduced day by day .. just awesome results .. wow 👌 👏 😍