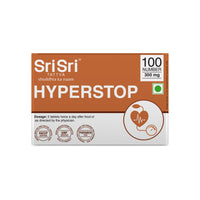 Hyperstop, 100 Tabs | 300 mg
*Inclusive of all taxes
Check Shipping & delivery
Introducing Hyperstop Tablets, a cutting-edge solution for individuals looking to effectively manage high blood pressure (Raktachapa). In Ayurveda, an ancient system of medicine, raktachapa is considered a health condition characterized by elevated blood pressure levels. These tablets are thoughtfully crafted to assist in regulating blood pressure levels and promoting overall cardiovascular health, helping you maintain optimal well-being.
Health Benefits
Maintain healthy blood pressure levels.

Reduce Risk of Hypertensive Emergencies.

Reduce Risk of Cardiovascular Diseases.
Key Ingredients
Sarpagandha (Rauvolfia serpentina) 
Arjuna (Terminalia arjuna)

Jatamansi (Nardostachys jatamansi) 
Aswagandha (Withania somnifera)
Punarnava (Boerhavia diffusa) 
Gokshura (Tribulus terrestris) 
Shilajatu (Purified bitumen) 
Mukta pisti (Calcined pearl) 
Processed with the extracts of Tulsi, Kushmanda , Brahmi, Mandukaparni, Excipients- QS
How to Use
Dosage: 1 - 2 tablets after food or as directed by the physician.
Net Weight: 100 Tabs | 300 mg