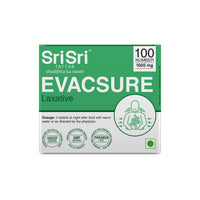 Evacsure - Laxative, 100 Tabs | 1000 mg
*Inclusive of all taxes
Check Shipping & delivery
Introducing Sri Sri Tattva Evacsure Laxative Tablets, your convenient and effective solution for relieving constipation (Vibandha). These tablets are thoughtfully crafted to promote regular and comfortable bowel movements, making them an essential addition to your digestive health routine. Experience the relief and well-being that Evacsure tablets can offer.
Indication: Vibandha (Constipation}. Kostha shodaka (Cleanses the gastro intestional tract).
Health Benefits
Support regular bowel movements.
Reduces the risk of constipation and its associated complications.

Eases the process of digestion.

Hassle-free relief from constipation.
Key Ingredients
Extracts of Sonamukhi (Cossia augustifolia)
Kanyasara (Alce barbadensis)
Fine powders of Haritaki
Shunti (Zingiber officinole)
Saindhava (Rock salt)
Vacha (Acorus colomos)
Saunf (Foeniculum vulgare)
Excipients 
How to Use
Dosage: 1 - 2 tablets after food or as directed by the physician.
Net Weight:
100 Tabs | 1000 mg