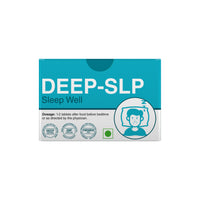 DEEP-SLP for Better Sleep, 100 Tabs | 1000 mg
*Inclusive of all taxes
Check Shipping & delivery
Sri Sri Tattva DEEP-SLP for Better Sleep Tablets are a groundbreaking solution for individuals seeking improved sleep quality and overall well-being (Insomnia). Crafted with a unique blend of natural ingredients, DEEP-SLP tablets are designed to promote restful and rejuvenating sleep, helping you wake up refreshed and ready to tackle the day.
Health Benefits
Improved Sleep Quality.

Reduced Sleep Latency.

Wake Up Refresh.

Stress and Anxiety Reduction.
Key Ingredients
Ashwagandha
Tagara
Mandukaparni
Yashimadhu
Shankpushpi
Excipients-QS
Citric Acid
How to Use

Dosage: 1 - 2 tablets after food or as directed by the physician.
Net Weight: 100 Tabs | 1000 mg