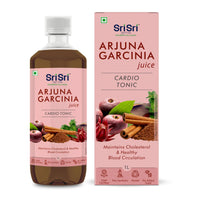 Arjuna Garcinia Juice - Cardio Tonic | Maintains Cholesterol & Healthy Blood Circulation | 1L
*Inclusive of all taxes
Check Shipping & delivery
The white to rose coloured bark of Arjuna has been used as a remedy for heart health and heart related issues for thousands of years. The Arjuna Tree grows throughout the wet, marshy, sub-Himalayan regions of India, producing clusters of small white or yellow flowers amid its cone-shaped leaves.Rich in herbs like Cinnamon, Roselle and Garcinia, Arjuna is known to help fight inflammation. Roselle is known to be an excellent source of antioxidants needed for a healthy circulation. Garcinia is known to help weight management, helps in checking bad cholesterol.
Health Benefits of Sri Sri Tattva Arjuna Garcinia Juice
Healthy circulation. Arjuna strengthens the circulatory system, rejuvenates
soft tissues & supports heart.
Maintains Cholesterol. Garcinia helps support the maintenance of healthy
cholesterol levels.
Increased Appetite and supports liver health.
Protects with antioxidants. The Roselle plant is rich in antioxidants such as
beta-carotene, vitamin C and anthocyanin.
Helps block fat formation. The active ingredient in Garcinia helps block the
enzyme that the body uses to form fats.
Ingredients
Arjuna

Vrukshamla

Cinnamon

Roselle

Citric Acid

Potassium Sorbate
Sodium Benzoate
Directions for Use

Add 30ml of His Vitality Juice to 100ml of water and mix well.

Drink twice a day, preferably on empty stomach or as advised by your Vaidya / Nutritionist.
Net Weight: 1L

My blood pressure is under control.