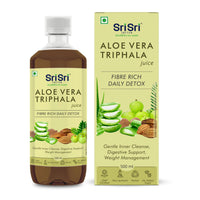 Aloe Vera Triphala Juice - Fibre Rich Daily Detox | Gentle Inner Cleanse, Digestive Support, Weight Management | No Added Sugar | 500ml
*Inclusive of all taxes
Check Shipping & delivery
Aloe Vera is a well known plant because of its numerous health benefits. Traditionally Aloe Vera juice is known for its alkaline nature which helps to maintain pH balance. It also helps in keeping the body hydrated, supports digestion, liver functions, pancreas, develop a clear and healthy skin.
Triphala, stimulates gastric enzymes and helps in nutrient absorption. It supports healthy digestion, helps in constipation & cleanses the colon.
Health Benefits of Sri Sri Tattva Aloe Vera Triphala Juice
Helps to reduce weight

Assists to regulate blood glucose levels

Prevents heartburn, acidity and constipation

Helps to strengthen the immune system and revitalize the body

Works as a liver tonic and also effective in controlling skin diseases

Possesses anti-oxidant properties, prevents tissue damage and hence delays ageing
Directions for Use
30 ml juice mixed with 100 ml water or fruit juice or have it plain.
Key Ingredients
Aloe Vera Juice
Amla Juice (Indian Gooseberry)
Haritaki (Chebulic Myrobalan)
Vibhitaki (Bellirica Myrobalan)
Water, Citric Acid (INS 330).
Ingredients are non synthetic, therefore, slight variation in colour, taste, viscosity and some sediments are natural.
Net Weight: 500 ml
Good Morning drink for detox
I have been using this for one month now and it is definitely good for your gut health
Aloe Vera Triphala Juice - Fibre Rich Daily Detox | Gentle Inner Cleanse, Digestive Support, Weight Management | No Added Sugar | 500ml
Aloe Vera Triphala Juice - No Added Sugar, 500ml