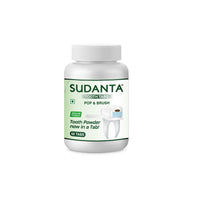 Sudanta Tooth Tabs, 60 Tabs | 650 mg
*Inclusive of all taxes
Check Shipping & delivery
Dental hygiene practices of our ancestors included chewing herbal sticks and using herbal powder for 'manjan'. Over time, many shifted to brushing with a paste.
Sri Sri Tattva brings to you Sudanta Tooth Tabs, which bring back the best of traditional practice with contemporary convenience! A blend of 20 highly effective herbs best known for dental care. Get rid of bad breath, dental plaque and disorders and maintain excellent oral hygiene and strength for your teeth with Sudanta Tooth Tabs.
Key Benefits
Get rid of bad breath.

Maintains excellent oral hygiene & strength for teeth.
How to Use
Take 1 tablet, chew and start brushing with a wet brush.Rinse thoroughly. For best results - Brush twice daily.
Net Weight: 650 mg
Excellent product
Such a wonderful product,it done wounders in my tooth...
feel fresh All day long
After 15 days of use regularly bad smell nd black layers in the edges of the teeth got removed. Yellow teeth is in the process of converting to white with very low cost. I
recommended this product
Sudanta Tooth Tabs, 60 Tabs | 650mg
Sudanta Tooth Tabs, 60 Tabs | 650mg
Good Product
It's good product while cleaning the teeths with Sudanta Tooth Tabs