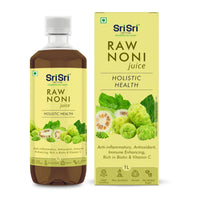 Raw Noni Juice - Holistic Health | Anti-inflammatory, Antioxidant, Immune Enhancing, Rich In Biotin & Vitamin C | 1 L
*Inclusive of all taxes
Check Shipping & delivery
Noni is an evergreen tree with large leaves and yellow fruit. It's found in various regions across the world. Noni is the ripe fruit of Morinda citrifolia, the juice of which is known to have immense health benefits. Though all the parts of this tree are medicinal, the fruit juice in particular has gained wide popularity as it is rich in Vitamin A, C and is packed with Iridoids & Minerals. This helps repair the body & enhances immunity.
Health Benefits
High in Nutrients - 

Rich in Vitamin C, Biotin and Minerals, helps support your 

immune system.

Anti-inflammatory and Antioxidant

as it includes Beta Carotene, Iridoids and 

Vitamin C.

Supports better Immunity

. Vitamin C in Noni supports your immune system by


protecting your cells from free radical damage.

Supports Circulation.

Enhances endurance, decreases fatigue and increases


sense of well being.

Helps stimulate Digestion.

Beneficial in supporting Liver function, helping 

support a healthy gut.

support a healthy gut.
Directions for Use
Add 30ml of juice to 100ml of water and mix well.
Drink twice a day, preferably on empty stomach or as advised by your Vaidya / Nutritionist.
Net Weight:
 1L
Raw Noni Juice - Holistic Health, 1L