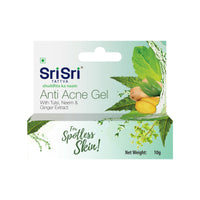 Anti Acne Gel - Spotless Skin, 10 g
*Inclusive of all taxes
Check Shipping & delivery
Sri Sri Tattva Anti Acne Gel is a complete cure for acne. Enriched with ginger, neem and tulsi, this gel helps heal pimples, acne, blackheads and helps reduce scars and dark spots. Ginger is a natural enzyme that helps cure acne. Neem is an anti bacterial agent and gives cooling effect. Tulsi has anti inflammatory and anti oxidant properties which helps acne heal faster.
Key Benefits
Anti-oxidant 
Treats Acne
Cooling effect
How to Use
Wash the face with Sri Sri Tattva Anti Acne Face Wash, dry & directly apply Anti Acne Gel on the affected area and allow to dry. Use everyday morning & evening for visibly clear skin.
For External Use Only. Close the cap tightly after use. Store in a dry place. Safe for use. Not tested on animals. Colour may vary.
Key Ingredients
Each g contains
Shunthi extract (Zingiber officinalis) 
Nimba extract (Azadirachta indica) 
Tulsi extract (Ocimum tenuiflorum) 
Glycerin 
Bio fluid 
Preservative (Phenoxyethanol) 
Color Index : C1(19140+42090) .
Aqua - QS. Base - QS
Net Weight: 10 g 
Anti acne gel
I have used this gel ,it gives a cooling sensation on the skin,it helps to reduce irritation of the pimples which can cause severe cysts,I loves this product it really calmed ,cooled down the irritation and my pimples spots also faded , and it healed pimples ,acne too ,if u are facing severe irritation on ir skin u can definitely go for this it will reduce the irritation and calm the pimples down and heal them
The best Anti acne treatment Ive ever used
Simply the best anti acne treatment
Its a very effective gel.