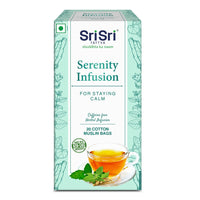 Serenity Infusion - FOR STAYING CALM - A truly calming daily cup, when you need it most - 20 Dip Bags
*Inclusive of all taxes
Check Shipping & delivery
Sri Sri Tattva Serenity Infusion is a moment of calm in a cup. It is a unique blend of Ashwagandha (Indian Ginseng), Brahmi (Waterhyssop), Mandukaparni (Indian Pennywort), Vacha (Sweet Flag), Jatamamsi (Spikenard), Tulasi (Holy Basil) and Shankapushpi (Bind Weed). If you're feeling edgy, tense or overwhelmed, sip on Serenity Infusion and bring that much needed tranquility to a stressful day!
Sri Sri Tattva Herbal Infusions come in eco-friendly, 100% muslin, hand stitched cloth bags with no nylon, plastic or chemically treated papers. These bags help retain the freshness and aroma of the ingredients and are great for brewing.
Key Benefits
Reduces body aches & pain.
Stress relief.
How to Use

One Infusion bag is suited to make 1-2 cups.

Steep for 3-5 mins in hot water cup.(Add sugar/sweetener/jaggery to taste, if needed ).

Strain and serve hot.
Key Ingredients:
Ashwagandha - root
Madhukaparni   

Tulasi - leaf
Shankhapushpi 
Brahmi 
Jatamansi 
Vacha - leaf
Natural flavouring substance (rose)
Net Weight : 30g
Serenity Infusion - FOR STAYING CALM - A truly calming daily cup, when you need it most - 20 Dip Bags
One of the Best Products I have ever Purchased
Serenity Infusion - FOR STAYING CALM - A truly calming daily cup, when you need it most - 20 Dip Bags