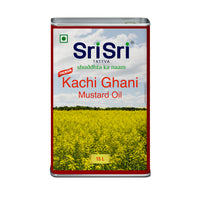 Premium Kachi Ghani Mustard Oil, 15 L
*Inclusive of all taxes
Check Shipping & delivery
In recent times, Mustard Oil has emerged as one of the most beneficial oils with numerous health benefits. The oil has an ideal balance of essential fatty acids and natural ingredients. Given this ideal ratio, Mustard Oil may be one of the healthy edible oils available today with benefits for the heart, gut & respiratory health.
Benefits

Promotes Heart Health.

Has Antibacterial Properties.

Aids in Digestion.

Helps the Respiratory System.

Mustard oil can be used for cooking and frying food. It acts as a preservative when added to pickles and chutneys.
Key Ingredients 

Mustard Oil

Vitamin A

Vitamin D
Net Weight: 15 L


Premium Kachi Ghani Mustard Oil, 15 L