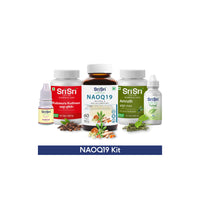 NAOQ19 Kit - Immunity Build Up & Protection
*Inclusive of all taxes
Check Shipping & delivery
The Sri Sri Tattva Immunity Building Kit is a carefully curated combination of Ayurvedic proprietary medicine and immunity boosters designed to build, enhance, and strengthen your immune system. This comprehensive kit serves as a valuable resource in respiratory disorders and rejuvenating the body, providing support and defense in today's challenging environment.

Key Ingredients

NAOQ19 – Anti Viral: Sri Sri Tattva NAOQ19, approved by the Ministry of Ayush, is a blend of 19 powerful ingredients formulated to act as an effective prophylactic against chronic viral infections. It aids in conditions such as fever, cold, cough, COPD, laryngitis, pharyngitis, breathing difficulty, and more.
Shakti Drops: This potent formulation contains eight invaluable organic herbs and acts as a rejuvenator while significantly boosting your immunity.
Tulasi Arka: Pure water extract of Certified Organic Tulasi, known for its antimicrobial and antioxidant properties. It supports the respiratory system and strengthens immunity.
Amruth: Also known as the 'Divine Nectar,' Amruth is a versatile supplement that boosts immunity, rejuvenates, and combats infections while eliminating toxins.
Kabasura Kudineer: A traditional Siddha formulation for managing chronic respiratory ailments, flu, and cold. It provides relief from respiratory symptoms, including severe phlegm, dry and wet cough, and fever.
Health Benefits

Enhance and strengthen your immune system, making it more resilient to infections and illnesses.
It aids in respiratory disorders, providing relief from conditions such as cough, cold, and breathing difficulties.
The included formulations act as rejuvenators, enhancing overall vitality and wellness.
The immunity boosters are effective in combating various infections and toxins, promoting health and well-being.
How to Use

Shakti Drops: 5 Drops with 60 ml water, 2 times a day.
Tulasi Arka: 10 Drops with 60 ml water, 2 times a day.
Amruth: 1 tablet, 2 times a day (before food).
Kabasura Kudineer: 1 tablet, 2 times a day (after food).
NAOQ19: 1 tablet, 2 times a day (after food).
Net Weight: 500 g x 3, 10 ml, 30 ml
Awesome products
Very powerful medicine. Useful for all.
Sri sri products trusted
Effective and must have kit
medicine is wonderful; I was having severe cold and cough; slept peacefully during night without nasal conjunction/other illness nuisance after taking medicine. got cured very fast without moving to fever and all.
query
can we give 5 yr children half or one tablet per day?
True Life Saver
Our whole family, including kids are using this kit whenever required
This is what is keeping us away from Covid & all other seasonal infections as well
Now we've realised the power & value of our Sri Sri Tattva Ayurvedic medicines
Thanks a ton 🙏🙏🙏