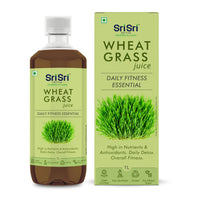 Wheat Grass Juice - Daily Fitness Essential | High In Nutrients & Antioxidants, Daily Detox, Overall Fitness | 1 L
*Inclusive of all taxes
Check Shipping & delivery
Over the years, Wheatgrass has become a household name when it comes to overall fitness & nutrition. The grass of wheat when it is just young is known as the Wheatgrass. It is rich in Vitamins & Minerals and considered very healthy when consumed daily. To ease your work of harvesting & juicing it daily, we have made this an easy to drink juice, that saves your time.
Health Benefits
High in Nutrients

, and rich in Vitamins and Minerals needed for maintaining 

optimum fitness levels.

Strengthens Immunity

& helps fight various infections

.

Rich in Antioxidants

- which fight free radicals in the body, reducing 

oxidative stress.

Natural Cleanser

. Detoxifies the body and helps ease constipation.

Energiser -

 helps feel more rejuvenated and refreshed.

Healthy Gut - h

elps maintain healthy digestion by detoxifying the liver 

and blood.

Green Blood

. Known as the 'Green Blood' owing to its rich Chlorophyll content.
Ingredients
Wheat Grass (Triticum aestivum) Lf ext. - 8g (

Each 100ml contains)

Citric acid - 100mg 

(

Each 100ml contains)
 Directions for Use
Add 30ml of juice to 100ml of water and mix well.

Drink twice a day, preferably on empty stomach or as advised by your Vaidya / Nutritionist.
Net Weight: 1L

Good
Cooling drink, cools the body
Feedback on the Wheat Grass Juice
I will say the Wheat Grass Juice does what it says it will. Both I and my 68-year-old mom take it and both have benefitted in this month. Great!
Wheat Grass Juice - Daily Fitness Essential | High In Nutrients & Antioxidants, Daily Detox, Overall Fitness | 1L
Wheat grass juice
After taking it feeling very light and energetic