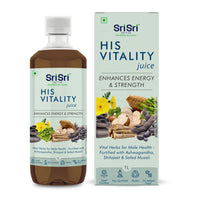 His Vitality Juice - Enhances Energy & Strength | Vital Herbs For Male Health - Fortified With Ashwagandha, Shilajeet & Safed Musali | 1 L
*Inclusive of all taxes
Check Shipping & delivery
Enriched with Ashwagandha, Safed Musali, Shuddh Shilajeet and 6 more Powerful Herbs, His Vitality juice is also a rich source of energy. Packed with antioxidants, it helps to rejuvenate the system with enhanced stamina. Recharge your system, feel renewed and give a boost to your immunity.
Health Benefits
Energiser

 Renewed Vitality & stamina, overcomes fatigue.

Rejuvenator

. Shilajit, Safed Musli, Ashwagandha rejuvenates the body &

helps maintain energy levels.

Antioxidant

. Antioxidants to help you improve your Immunity.

Calms your Nervous System.

Manage Stress and Anxiety.

Strengthens

. Improves overall strength & vitality of the body.
Directions for Use
Add 30ml of His Vitality Juice to 100ml of water and mix well.

Drink twice a day, preferably on empty stomach or as advised by your Vaidya/ Nutritionist.
Net Weight: 1L

Miracle juice
Helpful to vitality wonderful performance.
His Vitality Juice - Enhances Energy & Strength | Vital Herbs For Male Health - Fortified With Ashwagandha, Shilajeet & Safed Musali | 1L
His Vitality Juice - Enhances Energy & Strength | Vital Herbs For Male Health - Fortified With Ashwagandha, Shilajeet & Safed Musali | 1L
Vital Herbs for male Health
This juice is very energetic
His Vitality Juice - Enhances Energy & Strength, 1L