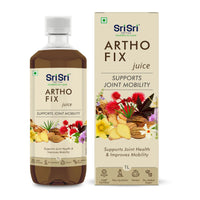 Artho Fix Juice | Supports Joint Health & Improves Mobility | 1 L
*Inclusive of all taxes
Check Shipping & delivery
Ayurveda herbs are known to treat Joint disorders efficiently for thousands of years now. Artho Fix juice is a blend of potent herbs like Eranda, Sahachara, Nirgundi, Punarnava which help reduce inflammation while supporting & strengthening the joints.

Fix your joint health with the power of 11 Herbs and improve mobility. Stock up on your antioxidants and reduce inflammation in your body.
Health Benefits

Anti-inflammatory:

The potent anti-inammatory property of herbs help in reducing inflammation in the tissues.

Helps strengthen

the Joints & improves joint mobility.

Helps Nervous System.

Parijata and Rasna helps in managing nerve related

conditions and relieving inammatory symptoms.

Tones Strained Muscles.

Bala and Nirgundi helps tone the strained joints and

muscles, making movement easier.

Manage Body Aches.

Shunti is known to help manage discomfort in the body.
Ingredients 
Nirgundi

Shunti

Erandamoola

Haritaki

Bala

Sahachara

Shati

Musta

Rasna

Punarnava

Parijata

Citric Acid

Potassium Sorbate

Sodium Benzoate
Directions for Use

Add 30ml of Artho Fix Juice to 100ml of water and mix well.

Drink twice a day, preferably on empty stomach or as advised by your Vaidya / Nutritionist.
Net Weight: 1L

Artho Fix Juice - Supports Joint Mobility, 1L
I ordered joints orthofix juice for my mother. Feeling comfortable after using it regularly. Thank you sri sri tattav
Very good for movement of joints freely
I am 62 years old and after using this for last seven days feeling very easy in movement of muscles and joints. A very useful ayurvedic syrup for me