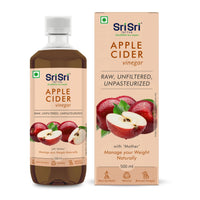 Apple Cider Vinegar - Raw, Unfiltered, Unpasteurized | Manage Your Weight Naturally | 500 ml
*Inclusive of all taxes
Check Shipping & delivery
Made by crushing fresh (Himalayan) Apples, the sugars in this juice are fermented to form this raw, unfiltered and unpasteurized vinegar. This combination contains a cloudy, web-like bacterial foam called 'mother' - a rich brownish liquid.

The concentrated bacteria and enzymes give Apple Cider Vinegar its antibacterial, antifungal and antiviral properties.

Health Benefits
Boosts Metabolism and helps in Weight Management.

Improves Digestion, Liver Health and Gut Health.

Helps maintain healthy skin and hair.

Helps eliminate an overload of toxins or Ama, from the body.

Its antibacterial, antifungal and antiviral properties help body to fight against various infections.
Directions for Use - Add 5 to 10ml of Apple Cider Vinegar to a glassful of water, vegetable or fruit juices, your salads or your daily cup of Lemon Tea.
Net Weight:
 500 ml
Goodness of ACV.
I read about the health-giving properties of ACV many years ago, and have been taking it regularly. I am a great fan of ACV.
Genuine Organic ACV
Genuine Organic Apple Cider Vinegar with mother. Must for all for multiple health benefits.
Apple Cider Vinegar - Raw unfiltered
I have started using ACV and I kind off liking it. This is the first time I am using ACV and it's not that hard to drink even the first time. As it is from Sri Sri Tattva, I don't think I have to be worried for any adulterations.. Just started using and so will have to wait to observe the impact on the overall health..